Tenor Bashkim Paçuku is established as an important figure in the music field through successful engagements performing with leading conductors and orchestras in the finest opera houses and concert halls of the world. Figuratively, he is a locomotive of professionalism for serious singers.
---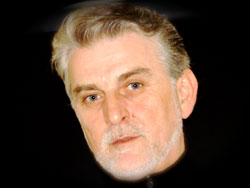 Albanian Tenor Bashkim Pacuku takes first prize in Barry Alexander International Vocal Competition.
Commenting on Mr. Paçuku's abilities, Cosmo Buono, the competition's Executive Director, said "It is rare to find a tenor of such natural vocal beauty who combines it with this kind of technique and musicianship. When listening to the voice, it is hard not to be reminded of tenors who were part of the Golden Age of opera."
---
My first reaction when I began to listen to Mr. Paçuku's tape was: "Is somebody trying to put me on?" The recording quality at first listen was rather poor, so I thought it almost sounded like an old 78 recording of one of the great tenors of a past era. But the more my wife and I listened, and after reading the enclosed material it was obvious that we were listening to an outstanding tenor. He has a beautiful natural instrument, excellent technique, musicality, and a beautiful high register. He sings equally well coloratura and slow lyric music. In other words he has it all.


View the entire letter ->
Rigoletto: